BURTON PROCESS SMALLS 1 Snowboard Set - BURTON PROCESS SMALLS Snowboard + BURTON SMALLS Bindings
If you are interested, put the set in the shopping cart and place your order. We will contact you immediately and help you choose the right size for your proportions and preferences.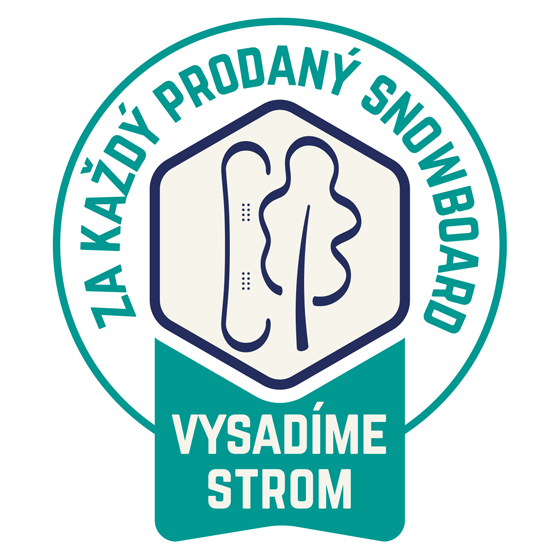 We do not care what is happening around us in nature, so for each snowboard sold we plant a tree in the Bohemian Forest.
BURTON PROCESS SMALLS children's snowboard
Gun for all teenage boys. With a balanced hardness and great stability, PROCESS is a snowboard with which your child will learn all the necessary skills in the snow. The board can handle both park and cross-country skiing.
Twin shape Freestyle snowboard shape where the tip and tail are equally long - the center of the board is located in the center of gravity of the snowboard.
Flat top Rocker on the heel and toe makes it easy to start and guide arcs during normal and switch driving. Flat between bindings is suitable for riding in various conditions, where forgives mistakes.
Twin Flex Symmetrical snowboard hardness. Toe and heel are equally hard.
FSC Certified Super Fly ™ 800G Core A combination of harder and softer wood, focused on each part of the snowboard for better pop, stability and weight reduction.
Dualzone ™ EGD ™ Wooden pressed sawdust around the snowboard foot and around the edges of the hind foot for added strength, edge control and snowboard response.
Biax ™ Fiberglass A softer snowboard lamination especially suited for jibbing and park riding.
Extruded Base Fast and durable base that easily absorbs wax.
Pro-Tip ™ Thinning and tip of the snowboard for weight reduction and increased mobility.
Rail Ready ™ Edge Tune Reinforced edge that can easily play on railings and boxes.
Children's snowboard bindings Burton Mission Smalls
Burton Mission Smalls bindings have all the benefits of their big brother only in the package for the smallest riders who have recently succumbed to the magic of snowboarding. Few bindings can offer all-mountain performance and versatile use while maintaining great features. The Burton Mission is one of them.
Technology
Re: Flex - Re: Flex increases flex boards by 71% as opposed to traditional disc bindings, all in a package that is compatible with all major mounting systems, including 4x4, 3D and the latest generation of The Channel. The minimized base reduces weight by 20%, while the Living Hinge is a secret to increase flexibility and sensitivity.
Base
Single Component - One material across the base creates a consistent response and feel for all-terrain conditions.
30% Short-Glass Composite Lightweight Re: Flex
Hi-Back
Zero Lean Canted Hi-Back design - ergonomic design accurately copies right and left foot shape for maximum comfort and control. Riders who prefer a relaxed and relaxed ride will love the Zero Forward Lean setting - but there is always the ability to set the binding to a more action position for sharp coloring and playing.
MicroFLAD - The higher the Forward Lean angle on your backrest, the faster your heel turns. Turn it forward for ice strikes in the ramp or put it back for jibbing. Micro setup literally gives you wings.
Living Hinge - This exclusive technology reduces the weight of the entire binding and allows you to customize the Forward Lean settings and the heel rotation independently.
Strapy
HammockStrap 2.0
Supergrip Capstrap 2.0 - 3D curved, minimized front strap with adjustable toe or instep. Less bonding, less stitching, PU free yet extremely durable
Buckles
Smooth Glide Buckles - Lightweight aluminum and polycarbonate buckles are ready to perform reliably for years to come.
Damping impacts
Re: Flex ™ FullBED Cushioning System - EVA Double Pad automatically puts your shoe in a natural position regardless of stance width or angles, giving you comfort, less fatigue and smoother and more precise control of your snowboard.
Leg size binding 35-40EU
| | 125 | 130 | 134 | 138 | 142 |
| --- | --- | --- | --- | --- | --- |
| Rider weight (kg) | 32-45 | 32-45 | 36-50 | 41-54 | 45-68 |
| Contact edge (cm) | 87 | 91 | 95 | 99 | 103 |
| Spike width (cm) | 26.24 | 26.48 | 26.83 | 27.2 | 28.08 |
| Center width (cm) | 23 | 23.1 | 23.3 | 23.5 | 24.3 |
| Heel width (cm) | 26.24 | 26.48 | 26.83 | 27.2 | 28.08 |
| Cutout (m) | 5.8 | 6.1 | 6.4 | 6.6 | 7 |
| Medium stance width (cm) | 43 | 45.5 | 45.5 | 45.5 | 48 |
| Set Back (mm) | 0 | 0 | 0 | 0 | 0 |