The K2 Indy All-Mountain snowboard binding is moderately flexible and built on a ProFusion™ baseplate with seamless EVA insoles and a built-in 3º rise to provide premium comfort and a natural ride. The Highback features a Gap Eraser™ forward tilt adjustment, allowing you to customize the response level of the board - more contact means more response. The Custom Caddi™ 3D padded ankle strap is soft and securely hugs your feet. The PerfectFit™ strap adapts to any snowboard boot toe shape. All ratchets on the K2 Indy snowboard bindings feature an EZ Feed design for quick engagement and are made from solid aluminum designed to handle everyday riding. To make matters worse, the entire binding can be adjusted manually and on the board thanks to Tool-less Adjustment.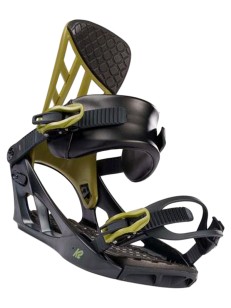 Destination: All Mountain, Powder
Flex: 4/7
Construction:
Profusion™ Chassis

classic model from the K2 binding range
it has a simple, light and at the same time strong chassis
once mounted on the board, all strap and rear adjustments can be made without the need for screwdrivers or other tools.

Multi-Compatible Disc

Built to be responsive and designed to work seamlessly with 4-hole and channel mounting systems.
Footbed:
3° Canted Footbed

the pad between the binding and the shoe is made of ultralight EVA foam
dampens vibrations and helps to better control the snowboard
Hi-back:
Polycarbonate
Forward Lean Adjustment
Airlock Forward Lean Adjustment
Tool-less Forward Lean

No tools are required for adjustment.
Ankle Straps:
3D Ankle Strap

K2's most padded and comfortable ankle strap with durable polyurethane material.

Padded Stitched Strap
Cam-Lock™ Centering
Starpy at the peak:
Perfect Fit™ - Fits every toe shape.
Cam-Lock™ Centering
Ratchet:
Aluminum Fixed-Pivot Ratchet - 4-click aluminum ratchets are safe and durable.
Integrated EX Feed Housing - Allows easier and faster feed.
| | | | | |
| --- | --- | --- | --- | --- |
| USA | 2 - 5 | 5 - 9 | 8 - 12 | 11 - 15 |
| UK | 1 - 3.5 | 4 - 7.5 | 7 - 10.5 | 10 - 14 |
| EU | 33 - 36 | 36 - 41.5 | 40.5 - 44.5 | 44.5 - 50 |
| CM | 20 – 23 | 23 – 27 | 26 - 30 | 29 - 33 |
| | WITH | M | L | XL |