The Gravity Bliss is a women's snowboard boot that offers strong support and extra comfort. Ankle support keeps the foot inside and prevents the heel from sliding, and the warm lining keeps you warm. If you are looking for quality and at the same time affordable shoes for the park or the slopes, Bliss is the obvious choice. For more information, read the specifications below.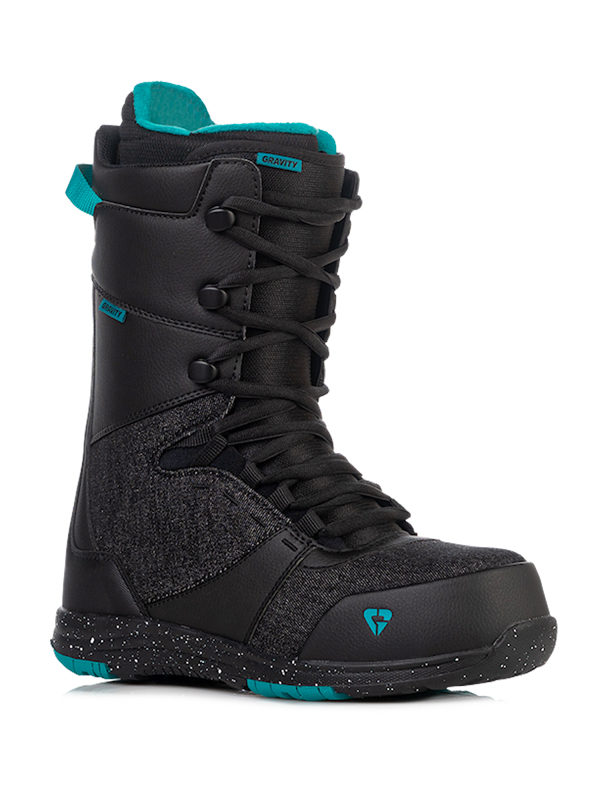 Specifications
Rubber + EVA Outsole

Snow boots Aura have an effective anti-slip pattern. In combination with abrasion-resistant rubber, it provides a higher durability of the sole and an absolutely perfect grip.

Ankle Support

The fixation pads around the ankle ensure a great fit of the foot in the shoe and prevent the heel from lifting while driving.

Comfort Liner

Comfortable inner liner with independent quick tightening.

3D Molded Tongue

The anatomically shaped 3D tongue precisely copies the foot and thus guarantees all-day comfort.

Long Lasting Shell

The upper part of the shoes is made of synthetic materials. The materials used are resistant to abrasion and wear, guaranteeing a long service life of the shoes.

Flexible Cuff

Soft and flexible cuff ensures flexibility and comfort.

New Stretch Link Design

The elastic panel between the top and bottom of the shoe in the ankle area allows the foot to bend naturally

Molded Handles

Reinforced strap in the back, upper part for more comfortable shoes.

Standard lacing

Classic lacing with laces with metal hooks.

GRVT Tech Liner

Inner liner with quick tightening system and warm lining
In addition, it includes reinforced side panels for maximum protection during hard driving.
Size chart:
| | | | | | | | | | | | |
| --- | --- | --- | --- | --- | --- | --- | --- | --- | --- | --- | --- |
| UK | 4 | 4.5 | 5 | 5.5 | 6 | 6.5 | 7 | 7.5 | 8 | 8.5 | 9 |
| EUR | 37 | 37.5 | 38 | 38.5 | 39.5 | 40 | 41 | 41.5 | 42 | 42.5 | 43 |
| US | 5 | 5.5 | 7 | 7.5 | 8 | 8.5 | 9 | 9.5 | 10 | 10.5 | 11 |
| CM | 23 | 23.5 | 24 | 24.5 | 25 | 25.5 | 26 | 26.5 | 27 | 27.5 | 28 |