Snowboard bindings Ride C-2 KHAKI is another model of high-quality medium stiffness bindings from the RIDE brand. The RIDE brand makes great boards, bindings and shoes. For more information, read the specifications below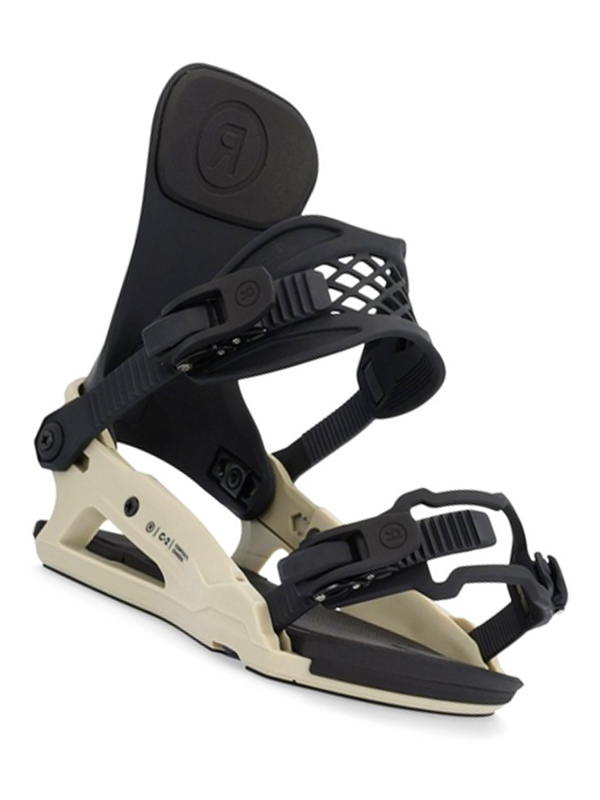 Feel: 2/10
Technical Specifications:
C-Series Performance Chassis
Extremely light and highly durable polycarbonate binding construction with the possibility of precise adjustment on the boot with a central Micro disc system that ensures easy adjustment of the binding position according to your chosen stance. This model is even 20% lighter than regular C bindings
Nylon Highback
Stiff yet lightweight binding foot made of nylon, which provides the perfect mix of support and response in the binding.
One piece Ankle Strap
Durable instep strap that provides sufficient support and comfort in one.
Minimalist Toe Strap with Overmold
A minimalist and very light strap that fastens over the toe of the shoe.
C-Series Diecut Basepad
The thin foam pad, which is under the binding on the underside and when the binding is mounted, acts as a cushioning pad that perfectly absorbs all shocks and impacts.
Canted Footbed
The ultralight binding pad that the shoe sits on uses tiny angles to align the ankles and knees into a more natural position. The pad angle also provides the necessary leverage to achieve maximum board pop.
Linkage Ratchets
Lightweight ratchets made of aluminum alloys in the latest design in the field of snowboard ratchets, which guarantee smooth tightening and loosening. The construction, which ensures a longer lifetime of the honeycomb tapes, is also an advantage.
Plastic Micro-Disc
A miniature plastic disk to hold the binding. The benefit is a better transfer of forces between the binding and the snowboard and the associated faster response of the snowboard. In addition to classic inserts, Micro-Disc is also compatible with slot/channel systems used, for example, by BURTON.
| | | | |
| --- | --- | --- | --- |
| | WITH | M | L |
| US Men | 4 - 8 | 6 - 10 | 10.5+ |
| US Women | 5 - 9 | 7 - 11 | |
| EU | 35 - 40.5 | 37 - 43.5 | 43.5 - 50+ |
| CM | 22 - 26 | 24 - 28 | 28 - 33+ |
| UK | 3 - 7 | 5 - 9 | 9 - 14+ |