The Ride Lasso white snowboard boots are among the long-standing favorite pieces from the RIDE company. The Lasso model belongs to the medium hard shoes. Ride manufactures high-end boots , bindings and snowboards . Their shoes have a great design, BOA® Fit dual lacing system, premium HDR™ upper, removable inner boot and much more . The boots are made of durable material to withstand adverse mountain conditions. More information on technologies, size chart and detailed specifications can be found below.
Specifications:
Upper: HDR™ Premium Synthetic Upper
The upper part of the shoe is made of special extra durable polyurethane
Construction: IN2GRATED
This construction makes them the lightest and shortest snowboard boots in their respective sizes
Midsole: SLIME+
Significant RIDE foam sole from a mixture that increases the comfort response underfoot
H4 BOA® Coiler Fit System
System for easy and quick tightening of the outer shoe using a wheel with a winding steel cable.
Boa® Tongue Tied™ Fit System
The system for tightening the inner shoe in the ankle area using a steel cable helps to better settle the position of the foot inside the shoe
The Closer™
The Closer™ Lace Guide system is located above the front of the shoe, thanks to which the laces are evenly tensioned throughout the shoe
Together with the Boa® Fit System, it improves the evenness of tightening to the next level, bringing incredible tightening precision.
Removable liner
The possibility of removing the inner shoe from the shoe when drying or cleaning.
HEAT REFLECTIVE FOIL:
This technology helps to move the heat that is held under the foot towards the toe so that it stays warm in the shoe all day.
INTUITION™ Support FOAM LINER:
High-density foam surrounds the shoe's construction for improved performance and greater comfort.
Internal and External J Bars, Cored Ankle Pockets
Maximum reinforcement in the ankle area that provides added reinforcements.
Helps to maximize heel fixation in the shoe for better control.
BLACK GOLD LINER MESH:
Inner shoe material with a mixture of charcoal and bamboo, which naturally absorbs moisture and odor. At the same time, it helps to regulate thermoregulation and improve blood circulation.
IMPACTO ULTRA INSOLE:
3D shaped EVA foam from double density for high support of the lower leg during vibrations and bounce.
Lifetime warranty for BOA Fit systems: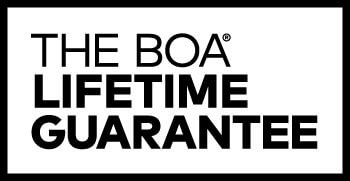 Size chart:
| | | | | | | | | | | | | | | | | | | | | | | | | | | | | |
| --- | --- | --- | --- | --- | --- | --- | --- | --- | --- | --- | --- | --- | --- | --- | --- | --- | --- | --- | --- | --- | --- | --- | --- | --- | --- | --- | --- | --- |
| US Children | 11 | 12 | 13 | 1 | 2 | 3 | 4 | 5 | -- | 6 | -- | 7 | -- | -- | -- | -- | -- | -- | -- | -- | -- | -- | -- | -- | -- | -- | -- | -- |
| US Men | -- | -- | -- | -- | -- | -- | -- | -- | -- | 6 | 6.5 | 7 | 7.5 | 8 | 8.5 | 9 | 9.5 | 10 | 10.5 | 11 | 11.5 | 12 | 12.5 | 13 | 14 | 15 | 16 | 17 |
| US Women | -- | -- | -- | -- | -- | -- | 5 | 6 | 6.5 | 7 | 7.5 | 8 | 8.5 | 9 | 9.5 | 10 | -- | 11 | -- | -- | -- | -- | -- | -- | -- | -- | -- | -- |
| UK | 10 | 11 | 12 | 13 | 1 | 2 | 3 | 4 | 4.5 | 5 | 5.5 | 6 | 6.5 | 7 | 7.5 | 8 | 8.5 | 9 | 9.5 | 10 | 10.5 | 11 | 11.5 | 12 | 13 | 14 | 15 | 16 |
| EU | 29.5 | 30.5 | 31.5 | 32.5 | 33.5 | 34.5 | 35.5 | 36.5 | 37 | 38 | 39 | 39.5 | 40 | 40.5 | 41.5 | 42 | 42.5 | 43.5 | 44 | 44.5 | 45 | 46 | 47 | 48 | 49 | 50 | 52 | 53 |
| CM | 16.8 | 17.5 | 18.5 | 19.5 | 20 | 21 | 22 | 23 | 23.5 | 24 | 24.5 | 25 | 25.5 | 26 | 26.5 | 27 | 27.5 | 28 | 28.5 | 29 | 29.5 | 30 | 30.5 | 31 | 32 | 33 | 33.5 | 34 |