The Ride Rook black snowboard boots were designed for your all-day comfort on the slopes. The RIDE Rook model is a soft to medium hard shoe. Ride makes high-end boots, bindings and snowboards . Their shoes have a great design, BOA® Fit lacing system, very light IN2GRATED construction and much more . The boots are made of durable material to withstand adverse mountain conditions. More information on technologies, size chart and detailed specifications can be found below.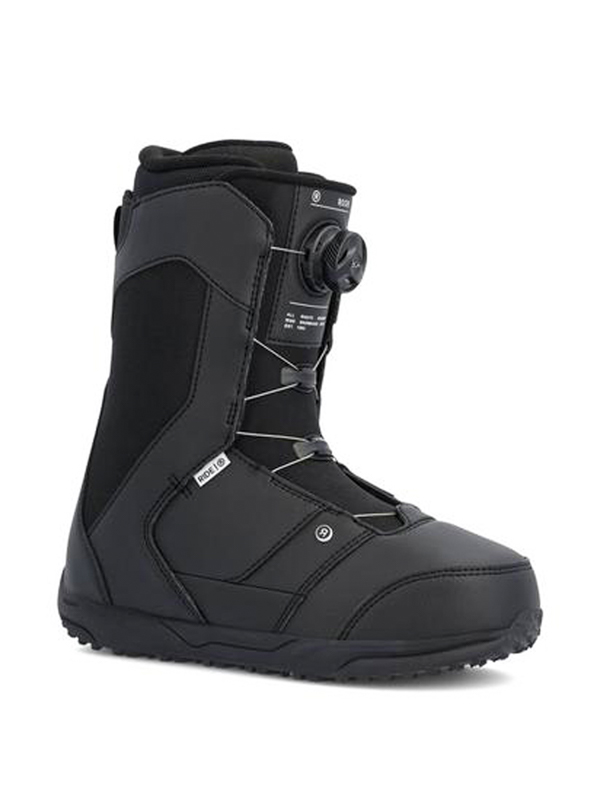 Specifications:
Construction: IN2GRATED
This construction makes them the lightest and shortest snowboard boots in their respective sizes
H4 BOA® Fit System
System for easy and quick tightening of the outer shoe using a wheel with a winding steel cable.
Midsole: SLIME+
Significant RIDE foam sole from a mixture that increases the comfort response underfoot
Grip Lite Sole + Slime Midsole
Flexible sole with flexible pattern with good grip + extra flexible and durable Slime layer
INTUITION™ Plush LINER:
High-density foam surrounds the shoe's construction for improved bounce and performance.
Center Tongue Liner / Internal J Bars
Maximum reinforcement in the ankle area that provides added reinforcements.
Helps to maximize heel fixation in the shoe for better control.
Die Cut EVA Insole
Basic, comfortable EVA foam for the comfort of your feet.
Lock Down™ Turbo
A safe and very simple system of retraction of the inner shoe, where a small hook is placed on the tongue, which prevents spontaneous loosening.
Lifetime warranty for BOA Fit systems: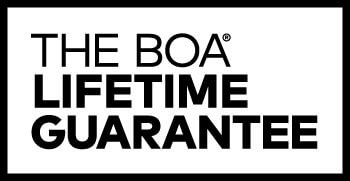 Size chart:
| | | | | | | | | | | | | | | | | | | | | | | | | | | | | |
| --- | --- | --- | --- | --- | --- | --- | --- | --- | --- | --- | --- | --- | --- | --- | --- | --- | --- | --- | --- | --- | --- | --- | --- | --- | --- | --- | --- | --- |
| US Children | 11 | 12 | 13 | 1 | 2 | 3 | 4 | 5 | -- | 6 | -- | 7 | -- | -- | -- | -- | -- | -- | -- | -- | -- | -- | -- | -- | -- | -- | -- | -- |
| US Men | -- | -- | -- | -- | -- | -- | -- | -- | -- | 6 | 6.5 | 7 | 7.5 | 8 | 8.5 | 9 | 9.5 | 10 | 10.5 | 11 | 11.5 | 12 | 12.5 | 13 | 14 | 15 | 16 | 17 |
| US Women | -- | -- | -- | -- | -- | -- | 5 | 6 | 6.5 | 7 | 7.5 | 8 | 8.5 | 9 | 9.5 | 10 | -- | 11 | -- | -- | -- | -- | -- | -- | -- | -- | -- | -- |
| UK | 10 | 11 | 12 | 13 | 1 | 2 | 3 | 4 | 4.5 | 5 | 5.5 | 6 | 6.5 | 7 | 7.5 | 8 | 8.5 | 9 | 9.5 | 10 | 10.5 | 11 | 11.5 | 12 | 13 | 14 | 15 | 16 |
| EU | 29.5 | 30.5 | 31.5 | 32.5 | 33.5 | 34.5 | 35.5 | 36.5 | 37 | 38 | 39 | 39.5 | 40 | 40.5 | 41.5 | 42 | 42.5 | 43.5 | 44 | 44.5 | 45 | 46 | 47 | 48 | 49 | 50 | 52 | 53 |
| CM | 16.8 | 17.5 | 18.5 | 19.5 | 20 | 21 | 22 | 23 | 23.5 | 24 | 24.5 | 25 | 25.5 | 26 | 26.5 | 27 | 27.5 | 28 | 28.5 | 29 | 29.5 | 30 | 30.5 | 31 | 32 | 33 | 33.5 | 34 |